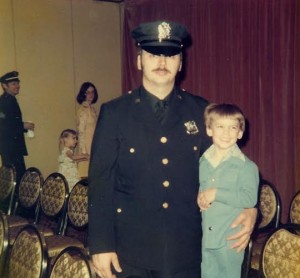 It was December 22, 1980, and my father, a Port Authority Police Officer, had been shot and killed in the line of duty. Two days later we had a funeral mass when we should have been enjoying Christmas Eve dinner.
You never really "move on" from something as terrible as having your father murdered right before Christmas but you do learn to move forward. Throughout the journey, the New York Police and Fire Widows' and Children's Benefit Fund has been there to help me and my family.  In addition to the financial assistance my mom receives, several members of the board have been extremely generous in providing their time and assistance in helping to guide me in my career.
I am proud and grateful to everyone who has chosen to recognize and honor the courage and sacrifice of the people keeping us safe by making sure their loved ones are taken care of in the wake of tragedy.
Today, I'm happily married, and in an effort to turn terrible memories into happy ones, I proposed to my wife on the anniversary of my father's murder – December 22, 2006.  I've also been blessed with a beautiful son, who I named William after the grandfather he'll never get to meet. I was even able to write a book to honor my father and other first responders that have paid the last full measure of devotion in the service of their fellow citizens.
Several years ago I attended the annual gala and had the pleasure of seeing a video presentation honoring my father.  Seeing the tears in my mother's eyes as she watched that video encapsulated the good work The Fund does better than my meager talents as a writer ever could, so I'll end this testimonial here by simply saying: THANK YOU!