Michael Reed spends most of his spare time running. When he started, he would run accompanied by the sound of music – that is until he injured himself in the process. Now, Michael sees music as a distraction from his real focus – running. Michael ran competitively for the first time, two years ago, in the New York City Marathon for Answer the Call. He started running in hopes of achieving his lifelong dream of completing a marathon. Now he only runs in New York City on the long runs exclusively without music. It may sound cheesy to you but to Michael the sound and the beat of this city inspires him and gives him more than enough to keep his mind occupied while running. He finds that it makes you appreciate New York City.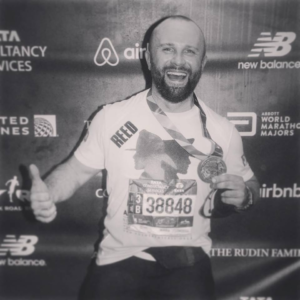 While he normally runs solo, this year's half-marathon will find him running alongside colleague and fellow junior committee member Brendan Dunn. The two will once again be running for Answer the Call. Michael asserts that there's no one else he would run for; "when you run for these events and see the police and the firemen that make it possible – this city doesn't operate without them. I run for them and in hopes of helping them gain the support and recognition they deserve. There's nothing better than running past these first responders and nodding your head and having them nod back, its an unspoken level of trust."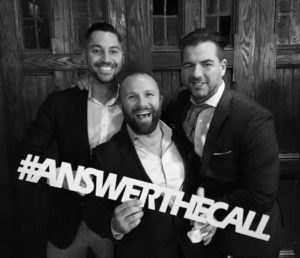 Michael started working with Answer the Call about 8 or 9 years ago, after our first Red & Blue Soiree. He's found himself inspired by the beneficiaries, their kids and the people who generously donate. For him, it's motivating to simply think of how the first responders are always there for us and never give up, regardless of the situation; they are the ones constantly running to help when everyone else chooses to run the other way. As a result, Michael chooses to run for them as a small token of his appreciation and everlasting respect. He runs for all those that serve as a thank you.
Click here to support Mike's half marathon campaign!
This interview was conducted by Megan Safina, a Spring 2019 Developmental Intern.