Kathryn Metz was a volunteer firefighter for 11 years – it's where she met her husband, another volunteer firefighter, and not long after her brother signed on to be a volunteer firefighter, as well. Kathryn knows plenty of firefighters and she understands the significance of what they do on a regular basis. Therefore, when she didn't get into the marathon through the lottery last year, she began researching charities to run for and stumbled upon Answer the Call.
Kathryn knew that she wanted to fundraise for a charity that spoke to her and that she was able to connect with their cause, so once she found Answer the Call she signed up to be on our team. "The fact that you come to the aid of families who experience the greatest loss is incredible. People saw firefighters and police officers as heroes after 9/11 and it's sad that it took something so tragic for them to get the appreciation that they deserve. They put their lives on the line and anything that can support those people is an amazing cause."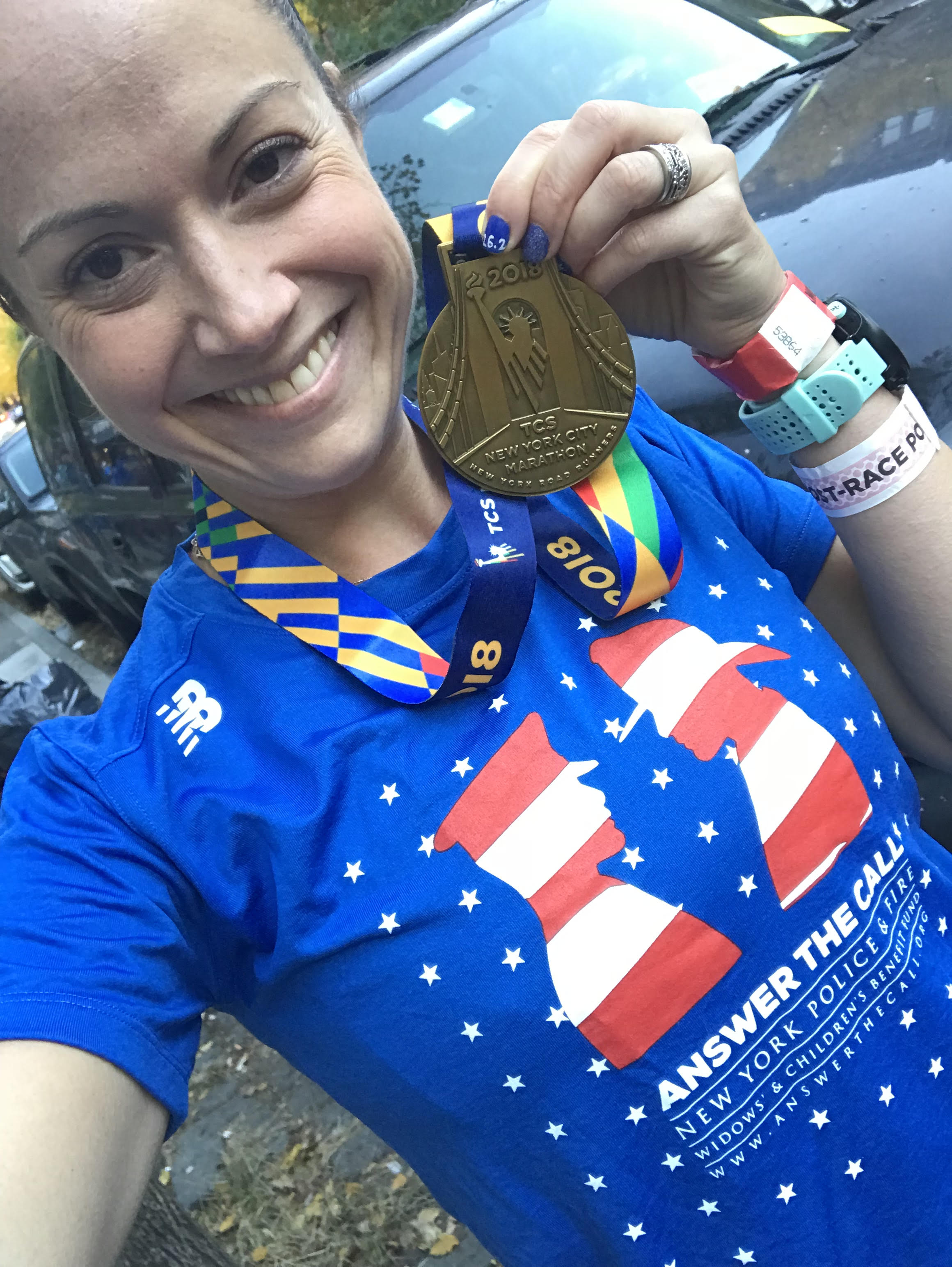 Kathryn started running three and a half years ago to lose the baby weight from her second son, and when she realized how well she could run she signed up for races – a 5k, then a 10k and got hooked. She ran her first half marathon and then never looked back. Kathryn ran the NYC Marathon in 2017 for the first time and got in through the lottery; however, in 2018, as well as, in 2019 she will run for Answer the Call. Kathryn says that running in the marathon is like running in the biggest block party ever – hearing your name be called, the different music being blasted from every street corner, trying to listen for your significant other cheering you on from the side lines.
When she needs motivation to finish a run, Kathryn reminds herself that the goal of the run is greater than any pain she is feeling in that moment. She says that once you power through those moments the feeling of accomplishment is worth any short term challenge that one faces. Kathryn puts pressure on herself to achieve her goals of time for the marathon. This year she plans to hold herself accountable for that goal and hopes to finish the marathon within that time frame.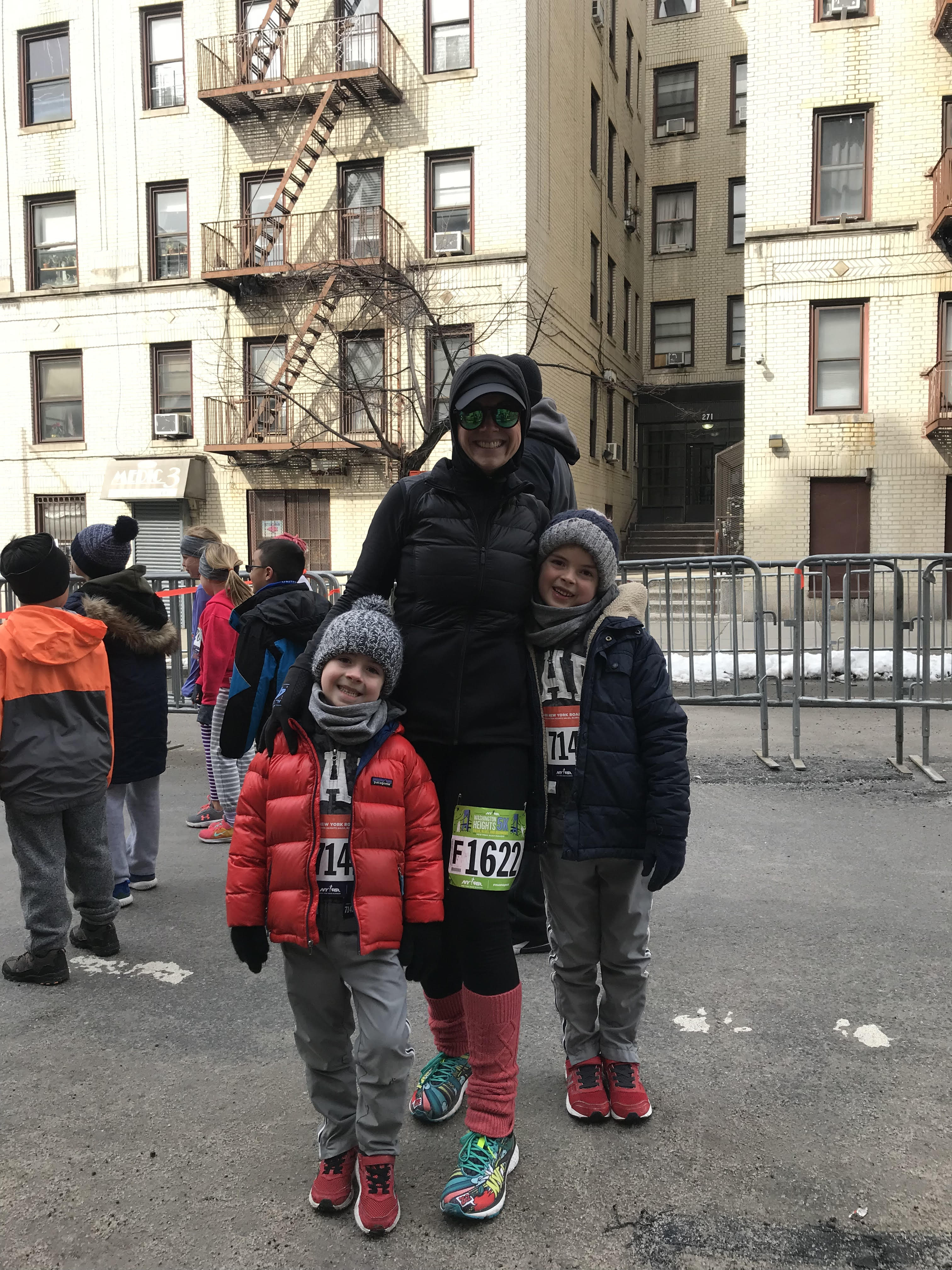 Kathryn lost her brother in a motorcycle accident about 17 years ago, so when she hits mile 23 or 24 he's the person that always comes to mind when she's losing motivation. "I feel a greater connection to him while I'm running, even though I'm not running this marathon for him the energy that I get from reaching out to him in those final miles gets me across that line." She also points out that she'd be remiss not to acknowledge how much the support of her husband and kids means to her. When she's not running, Kathryn spends a lot of her time with her two boys, aged 5 and 7, they currently started baseball season and they keep her busy.
To the families of fallen first responders, Kathryn wants to say that it is "truly an honor to be able to contribute any amount to make their lives just a little easier, when they've been faced with such a tragic loss. It's an honor to run for those who can't run any longer."
Click here to donate to Kathryn's fundraiser!
Written by Megan Safina, 2019 Spring Intern.