Whitney Cavanagh is very excited to be running her third ever marathon as a member of Team Answer the Call. The decision to run on behalf of Answer the Call came easy for Whitney, as she knows firsthand the fear that families of first responders live in as her husband is a Chicago police officer. Whitney has known of widows and families that have lost their loved ones as they were serving as heroes for their communities, and each time she is always reminded that this is a possibility for her. Knowing how first responders put so much on the line every day when they go to work, and that there are families that have lost their loved ones in the process, is what motivated her to want to help. Whitney is so grateful for our first responders, and encourages everyone to thank them for their service, as it is not appreciated nearly enough.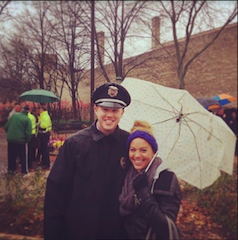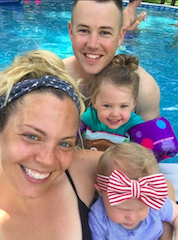 Whitney has previously run in the Chicago marathon in 2008 and 2009. It was after seeing her husband run in the NYC marathon last year that she began thinking about running it herself. However, now that she has two young kids, she was hesitant, as she knew it would be difficult to find the time to train and take on this big commitment. It was only after seeing the excitement from her coworker, Rhys Miles, that she was inspired to really do it. Whitney and Rhys will both be running on team Answer the Call. Whitney is also very thankful for her husband and parents that have been very supportive of her.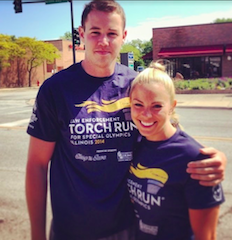 Whitney is also motivated by her uncle. After being in a tragic car accident and becoming paraplegic, he was devastated at how this would change his life. She remembers him saying that her would rather die than be in a wheel chair. However, he overcame this mind set and started racing, becoming the fastest of wheel chair racers. His dedication motivates her in any race she runs.
This interview was conducted by Rosie Oates, 2020 Spring Development Intern