Last year, brothers Sean (age 6) and Kyle (age 4) decided they wanted to have a lemonade stand in their grandmother's front yard. Most kids want to keep the profits, to buy a new set of legos or an ice cream cone, but not these kids. When their mother, Debi Griffin, suggested the idea of donating proceeds from the lemonade stand to the families of fallen first responders, the kids immediately agreed. For as long as Sean could walk and talk, he viewed his father, NYPD Sergeant Matthew Griffin, and all first responders as superheroes. Sean even wore his police officer costume while working the lemonade stand.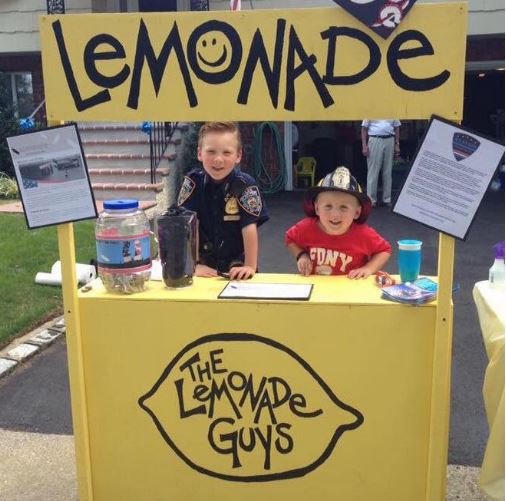 The Griffin Family was not expecting to raise a lot of money, but looked forward to donating whatever they could to the New York Police and Fire Widows' & Children's Benefit Fund. Noticing how much attention the stand was getting, they made their donation goal $1,500 for the day. They ended up having to raise that goal five times! Last year, they raised $2,000 at the stand in just three hours and $5,000 with their online fundraiser for those who could not attend. Ambulances, Firetrucks and Police cars lined the streets, all coming to support Sean and Kyle's lemonade stand. Sean said that his favorite memory of the day was being able to sit in the ambulance on the stretcher, but he didn't want stay too long because he had lemonade to give out.
This year the lemonade stand is coming back and is better than ever! While their official goal is to raise at least $7,000, the boys say that their ultimate goal is $80,000! All proceeds are donated to the NY Police and Fire Widows' & Children's Benefit Fund, also known as Answer the Call. Sean and Kyle have high hopes and ambitions for this stand and eventually hope to expand it to other cities and states.
If you can't make it in person but would still like to donate to our organization through Sean and Kyle's Lemonade Stand you can click here to donate to their online fundraiser!
Kindly note, the online fundraiser has ended and the lemonade stand date has passed. We are in awe of Sean and Kyle raising $16,085 for our organization. Thank you to the Griffin Family for answering the call!