Take OUR Kids to Work Day 2016
written by: Juliana Weiss
Last Thursday, five rising stars in the Benefit Fund community participated in our 1st Annual Take Our Kids to Work Day. Along with a host of companies and organizations which chose to partner with us to make this campaign happen, these individuals spent their day learning, growing and experiencing their possible futures. All of these five individuals truly learned about themselves and their bright futures!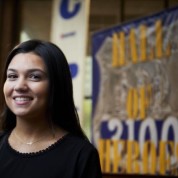 Francesca Mosomillo, daughter of fallen NYPD hero Officer Anthony Mosomillo, spent the day at the New York Police Department Headquarters and even met Police Commissioner Bratton. Francesca has been interested in pursuing a career in criminal justice since she took a course on the field at Iona. She feels that she would be making her father proud, to follow in his footsteps, as well strengthening their connection. When describing her experience, Francesca said that it was 'a great day,' that she 'will never forget!'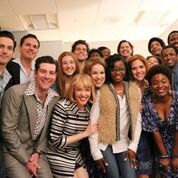 Alexis Stewart, a daughter of fallen NYPD hero Officer Dillon Stewart, learned what it takes to put on a Broadway show. Alexis toured the offices of public relations company DKC, advertising agency Serino/Coyne, and show management The Charlotte Wilcox Company. Alexis received a backstage tour, enjoyed a performance of Beautiful: The Carol King Story, and was able to meet the cast.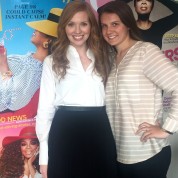 Emma Rafferty, daughter of fallen NYPD hero Detective Patrick Rafferty, got a tremendous behind the scenes look at jobs in the print media world. Emma spent her day with Ashley O'Brien, the Senior Marketing Director at O, The Oprah Magazine, learning about products, content and many other aspects of the various jobs one can have while working at a magazine.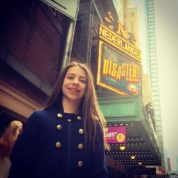 Mia Graffagnino, daughter of fallen FDNY hero Firefighter Joseph Graffagnino, got to spend her day on the set of the hit Broadway musical comedy Disaster! The talented actor Catherine Ricafort served as Mia's mentor for the day and provided Mia with the inside scoop of what it is like to work on Broadway.
Connor O'Callahan, son of fallen FDNY hero, Firefighter Daniel O'Callahan, practiced his skills as a budding Physical Therapist under the tutelage of the Assistant Director of Rehabilitation at the Long Island State Veteran's Home. He said it was an amazing opportunity and that he had a wonderful day!
We look forward to hosting Take OUR Kids to Work Day again next year! If you're interested in serving at a mentor in the future, please click here